Departures Travel
Establishment and travel agency at 1889 Oak Bay Avenue, Victoria, BC V8R 1C7, Canada. Please contact Departures Travel using information below: address, phone, fax, email, opening hours, customer reviews, photos, directions and more.
Opening hours
| | |
| --- | --- |
| Monday | 09:00am — 05:00pm |
| Tuesday | 09:00am — 05:00pm |
| Wednesday | 09:00am — 05:00pm |
| Thursday | 09:00am — 05:00pm |
| Friday | 09:00am — 05:00pm |
| Saturday | 10:00am — 02:00pm |
X
Photos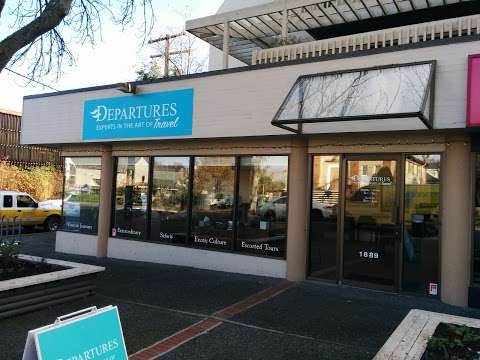 Reviews of Departures Travel
Lois Gerber Added 2018-11-06

★ ★ ★ ★ ★

Although not clients, while vacationing in Victoria, BC a few weeks ago, we were disappointed the tea room located next door to this travel agency was closed for the day. When we asked if anyone here could recommend another tea room, all the ladies were very helpful in suggesting and locating other suitable venues, acting immediately, calling various establishments to check their hours of operation. We were very satisfied with our experience at the tea room that was ultimately recommended by the staff at Departures! We would absolutely recommend Departures Travel, Victoria for booking travel plans, based upon their outstanding customer service alone. The personalized help we received when we just walked in the door right off the street was second to none and most refreshing, adding much to our wonderful stay in Victoria.

Lois Gerber, St. Clements, ON

Rayyann Khudabux Added 2018-10-21

★ ★ ★ ★ ★

I have visited Departures Travel last month to plan a family cruise to Alaska. The service was amazing. Fiona was great at providing options and finding solutions to all my possible questions and issues. I highly recommend them!

James Jamieson Added 2018-09-17

★ ★ ★ ★ ★

I have dealt with Departures for over 30 years. Always pleasant, effective, knowledgeable, with great understanding of everything travel. I have always dealt with Ronnie, who herself is 5 star.

Dana Quinn Added 2018-08-27

★ ★ ★ ☆ ☆

We were recommended to Colleen through family while booking flights for our trip to the UK this past June. Overall, our experience with Colleen was quite good, she was great with responding to our emails in a timely manner and sorted everything out for us relatively worry free. I had raised concerns during the booking process about flying Air Canada Rouge upon her and her coworker's recommendation, because my fiancé is 6'4, I had concerns that he wouldn't have enough room on these notoriously cramped planes. She assured us that it wouldn't be a problem but oh boy was it! I'm 5'6 and had barely any room, and my poor fiancé suffered a 7 hour flight with his knees pressed into the seat in front of him, unable to move his legs at all from Toronto to Victoria. We would certainly not ever fly Air Canada again after the entire debacle of the flights, and would certainly not ever recommend Rouge to our worst enemies. I had wished that Colleen had taken my concern for my fiancé's height into more consideration when recommending Rouge to us, especially for such a length of time to be in a heightened state of discomfort.

Colleen Hoggarth Added 2018-08-25

★ ★ ★ ★ ★

We were very fortunate to work with Colleen at Departures Travel for a family holiday to Mexico. Colleen worked with us to find the perfect location that gave the my husband and I the quiet we needed and enough activities to keep our grown children enthused. The details of having us travel from Victoria and our kids from Toronto, right down to the seat placement on the airplane and room location at the hotel was perfect. We appreciated the follow up upon our return to ensure the holiday met our needs. We look forward to working with Colleen again!!
About departurestravel.com