VR Lounge Infusion Edutainment
Establishment, bar and night club at 514 Fort Street, Victoria, BC V8W 1E6, Canada. Please contact VR Lounge Infusion Edutainment using information below: address, phone, fax, email, opening hours, customer reviews, photos, directions and more.
Opening hours
| | |
| --- | --- |
| Sunday | 12:00pm — 10:00pm |
| Monday | 12:00pm — 08:00pm |
| Tuesday | 12:00pm — 08:00pm |
| Wednesday | 12:00pm — 10:00pm |
| Thursday | 12:00pm — 10:00pm |
X
Photos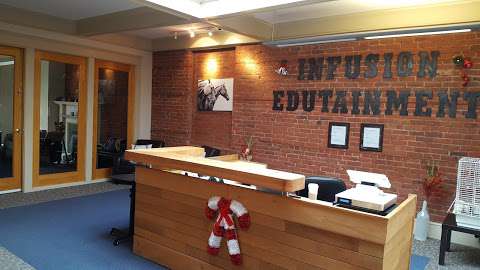 Reviews of VR Lounge Infusion Edutainment
Blue Added 2018-11-26

★ ★ ★ ★ ★

The VR place front door looks very small but inside (you have to go upstairs) is amazing, cozy have lots of space and rooms.
We did half hour casual room together share experience and half an hour multiplayer game. Its absolutely something you would like to try once awhile. The staff are very helpful, almost solve the problem instantly! Excellent service!
Lots of options , games and experience. We had lots of fun! The walking dead zombie shooting game is a awesome!
About infusionedutainment.com
Infusion Edutainment VR Arcade Victoria
Virtual Reality in Victoria! VR lounge host birthday party staff party for large group up to 25 people all ages 5+ yrs
360 games, VR, Victoria, Virtual Reality, things to do